The holidays will be upon us in a blink, and savvy gift-givers know that the best time to find Christmas presents is as early as possible. But when it comes to gifts for the family, ideas often run dry! Over the years, you've probably given every present you can think of (and afford) to your mom, dad, siblings, and grandparents. Just what do you get them this year?
Here at Christian Style, we're always pumped with ideas for the Christian family. So we're eager to share with you our top Christmas gift suggestions for each member of your household. Every item on this list is meaningful, personal, and affordable -- get them today!
1. For mom
Our mothers care for us non-stop and deal with household woes all year long. The perfect present for them would be something that eases their burdens and lifts their spirits. Our pick? This super-useful tote bag with motivational Bible print! It's pretty, it's practical, and it's a powerful boost for the superwoman in your life.
See more gift ideas for mothers here.
2. For dad
For a father who's always dependable at home and at work, some 'fuel' would be an appreciated gift. And what could be a mightier energy-giver than Jesus? Gift your dad with divine motivation -- in one durable, handy, and mood-lifting coffee tumbler. Energy everyday!
See more gift ideas for fathers here.
3. For sis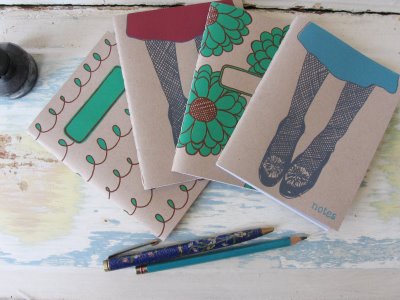 After a full year of picking squabbles with your sister and teasing her for just about anything, show her that deep down, you care a lot about her. That means putting real effort into her present! We recommend crafting a personalized journal (or two) just for her. Designer Jen Hewett has a step-by-step DIY on making the hand-stitched notebooks above.
4. For bro
If you appreciate your brother's diligence and grit -- or if you hope to remind him to be his best -- this statement tee may be perfect for him. "Hustle hard, pray harder" is such a powerful motto for a young man to remember. The shirt's graphic design is youthful and dynamic, too, making it an easy addition to his wardrobe.
5. For your littlest one
For the little cherub in the family (whether a toddler or a school-age child), we usually default to gifting toys and kiddie books for their entertainment. How about putting a Biblical twist to it? We love the idea of making a "quiet book" (made of felt) that shows Bible stories, complete with interactive plush characters! Christian mom Laura shows us her DIY Noah's ark example above.
See more gift ideas for children here.
6. For wife
Your beautiful, wonderful soulmate deserves something that will make her heart smile -- like the elegant couple necklace pair above! It's not just for the sweet gesture of you wearing this matching jewelry with her. It's more importantly about the matching crosses on top of the heart -- a symbol of how you put God first in your lasting relationship.
7. For husband
This printed hoodie jacket is well-loved by our customers at Christian Style, particularly by spouses! The statement print is smile-inducing, and wearers have gotten compliments for it. It's incredibly cozy, too, making it an all-around win.
8. For grandma and grandpa
What do you give Nana and Gramps, the two greatest people who have lived long, amazing lives? Well, they may not expect anything material from you, but they deserve a nice present to repay some of the love they've showered you. How about a cozy blanket with a Bible verse print? It helps them stay warm, and wraps them in the comforting Word of God. Get one for each of them, or get the largest size so they can share the warmth.
See more gift ideas for grandparents here.
9. For uncle and aunt/godfather and godmother
Your favorite relatives always welcome you into their home as one of their own. Show them your appreciation with a home decor piece that's as wonderful as them. The personalized dining room wall art above can be printed with their family name, completing the classic mealtime prayer in its design.
See more decor ideas for Christian homes here.
Bonus: For someone in your church
You probably have a close friend, Bible study buddy, volunteer, or minister at your church whom you sincerely treasure. If you're looking for an inexpensive yet meaningful present for them, you can never go wrong with the cross. We recommend the cross car accessory above, which you can gift along with a genuine prayer for their daily safety and well-being.
Did you like the Christmas gift ideas on this list? If you're gift-hunting for more people in your life, browse ChristianStyle.com for wonderful gift items for Christians!