Our bedrooms should be a place of refuge -- the room where we can have privacy and restful silence. For married couples, this is also the space for intimacy and genuine togetherness. For kids and teens, the bedroom is where they can delve into personal interests such as reading, communicating with friends, and journaling. And for a Christian family, bedrooms are where the sincerest prayers and reflections are offered.
Styling the bedroom helps create this oasis. Here, we've picked some wonderful bedroom decorating ideas that are perfect for a Christian household.
1. Light and airy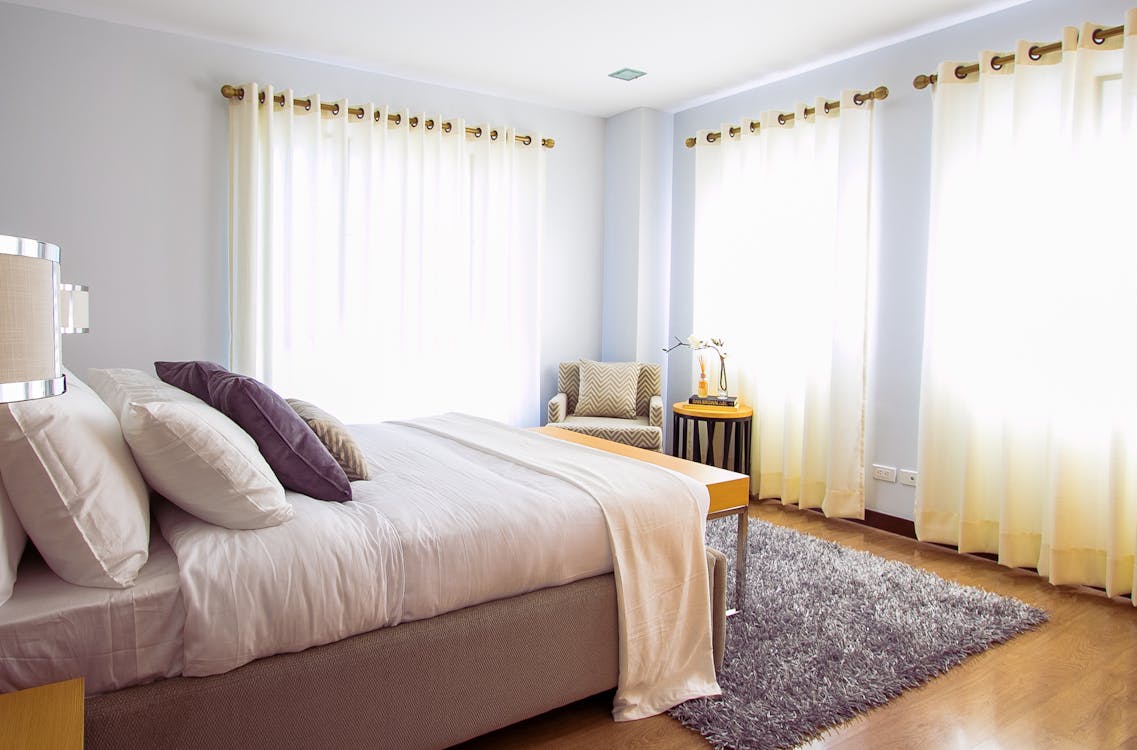 Natural light is a precious element in any room. It lifts the ambiance of the space and perks the brain for any activity that requires clarity. It also helps us feel calm and easy, especially when we're feeling overwhelmed with clutter in our lives.
So if your bedroom is blessed with windows where sunshine pours in, play up that lovely quality! Hang curtains that are light and breezy instead of heavy. Choose soft colors for your walls and beddings. You can even go the minimalist approach: forgo most other ornamentation and just let your windows shine.
2. Neutral and soft
Neutral colors include white, beige, light gray, tan, and cream. They go with almost any other color and lend a sense of consistency and safety to the room. American homes typically start with a neutral paint hue for their walls, then add other colors through furniture and decor.
If you'd like a soft, restful atmosphere to your bedroom, you can use a neutral palette all the way. Start with a dominant shade of light-neutral, then decorate with complementing shades that are slightly richer. In the photo above, the light-gray wall is complemented by a dark-gray wall sign.
Wall art pictured above: "In This Family..." Premium Canvas
3. Understated elegance
Some homes create sophistication by keeping their decor down to the basics -- no superfluous ornamentation, no visual clutter. The result is a space that's not only elegant but also peaceful and conducive to rest. The secret to this bedroom serenity is in three Cs: cohesion of colors, conscious selection of decor, and of course, cleanliness.
4. Cozy and warm
On the other hand, many bedrooms also emphasize the coziness and warmth of being at home. Who wouldn't feel relaxed in a room with soft carpeting, a plush bed, a bunch of soft pillows, and a nice, warm blanket on top? If this kind of comfort is your goal, take some time in selecting your beddings. They will become the focal point of the room, so make sure you like how they look individually and when put together.
On ChristianStyle, we have some nice pillows and fleece blankets with Bible designs, like these:
Blanket pictured above: "I Can Do All Things Through Christ" Premium Fleece Blanket
Pillow pictured above: "Be Still And Know That I Am God" Pillow
5. Youthful vibrance
When decorating a child's or a teenager's bedroom, fun colors are a top element. But you don't have to coat everything in bright yellows and reds. Sometimes, hanging a cute wall accent or two is enough to match your child's youthful personality. Take a look at our "Can't Sleep?" wall art above, perfect for restless teens, and also our "God's Top 10" decor below, for younger kids.
Wall art pictured above: "Can't Sleep? Talk To Me" Premium Canvas
Wall art pictured above: "God's Top Ten" Premium Canvas
6. Peaceful nursery
In a small child's bedroom, gentle decor is helpful to create the sweetest dreams. Opt for soft pastel colors like powder blue, butter yellow, or baby pink. Then accentuate with whimsical decor featuring child-friendly characters and shapes.
An important tip for decorating a nursery is to use childproof materials. Choose fabrics that won't harm your baby's skin or breathing. Keep lights and other electronics away from reach. And steer clear of breakables like glass. For wall decor, you can hang a lightweight canvas print instead of a framed picture.
Wall art pictured above: "I Am A Child Of God" Premium Canvas
7. Feminine grace
A feminine approach to decorating can turn your bedroom into a beautiful, restful, and meditative space. If you're into this ambiance, don't shy away from using elements that are traditionally considered 'womanly', 'ladylike', or 'domestic'. These might include soft pink colors, flowers or floral designs, and fancy detailing.
If you're unsure about how much femininity to incorporate into your space, just sprinkle a few elements here and there. Take a cue from this example below, where the neutral color scheme is accentuated with a ladylike wall art, pillow, and vase of flowers:
Wall art pictured above: "God Is Within Her" Premium Canvas
8. Soulful romance
We top off this list with some sweet inspiration for Christian couples' bedrooms. This particular bedroom features a Bible verse that elevates the concept of intimacy into a soul-level connection. It's such a good idea to spotlight a love quote from the Bible, because it keeps the romance guided by faith and directed towards God. This wall quote is visually pleasant as well, so you'll enjoy seeing this reminder every day.
Wall art pictured above: "Found The One Whom My Soul Loves" Premium Canvas
We hope these bedroom decor ideas inspired you! Which one is your favorite? Tell us in the comments!
If you liked the Christian home items featured above, find more at ChristianStyle.com!