Our home should be the most comfortable space for our loved ones -- a place where they feel loved, inspired, and closer to God. We don't have to live in a luxurious mansion or spend so much money on material things to achieve this. A few touches of thoughtfulness can bring out the oasis in your home.
Here are some inexpensive but meaningful home decorating tips to make your place cozy for your family (and guests).
1. Favorite verse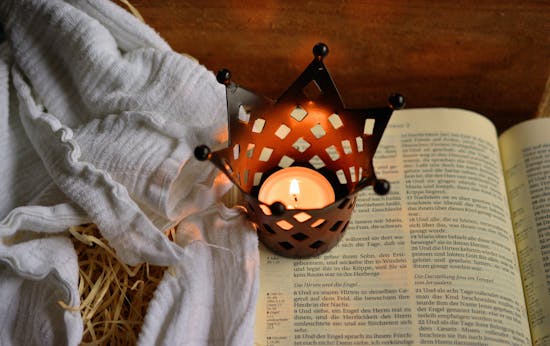 Does your family have a favorite Bible verse? Highlight the beauty of the Word by displaying it open on a tabletop and surrounding it with homey elements such as flowers and candles. It's a simple, beautiful vignette for your living room or family room.
2. Family portrait
Of course, a family photo or artwork is a classic wall decor in many homes. While a portrait is indeed timeless, you can make it even more personal and meaningful by combining it with a quote that perfectly describes your family. The customizable family art above is a great example. It's also more affordable as it's a premium canvas print -- no need for studio photography or pricey frames.
3. Memories in a box
Take your memories one step further by preserving them in 3D! Yes, you can display mementos such as small trinkets, game tickets, baby shoes, tiny toys -- the list goes on. Create a shadowbox display with a specific theme, such as the birth of your child or a special family trip. (Do-it-yourself instructions here.)
You can even enlist your family one afternoon to craft a shadowbox of the year's highlights. Turn it into an annual tradition!
4. Dedication in faith
A rustic piece of wall decor adds warmth to your home, and it's even more welcoming if it shows the wonderful Christian values of your family. The Bible verse artwork above is a visually-pleasing example of putting God as the center of your home.
5. Preserved writing
Does your family have a precious handwritten heirloom, such as grandma's casserole recipe or grandpa's romantic love letters? Instead of letting them collect dust, preserve and display them in elegant frames! (DIY instructions here.) Not only can you glance at that casserole recipe for many years to come, your children and guests can also appreciate the beautiful history of your family.
6. A commemoration
In your home, you probably have a photograph or an object that commemorates a loved one who has passed. Their passing may have brought tears, but as time passes and with the Lord's grace, you get to understand that it's worth celebrating the love and laughter that your beloved has brought to your home. This wall art is a lovely testament to that piece of heaven.
7. Friendly house rules
Work hard, tell the truth, have fun -- those are some great guidelines to live by with your family. What's even better is that these house rules are supported by Scripture itself. Hang this Biblical wall decor in your home for quick reminders of the Word of God.
8. Kiddie 'house rules'
Speaking of guidelines, it's a great idea for parents to translate the Ten Commandments in kid-friendly terms. After all, children need practical guidance on how to obey the commandments in daily life. The colorful wall sign above is a cute way to teach your child about this important aspect of Christian life -- and a fitting decor piece for a nursery or a kiddie bedroom.
9. Hobby gallery
Every family has a hobby that serves as their bonding activity. Why not showcase some unique objects from this hobby? Whether it's a collage of pressed flowers, a gallery of sporting photos, or a collection of boat paddles, it's sure to tell a story about your family.
10. A blessing
Saying grace is something that your family does together, so how about turning your mealtime prayer into dining room wall art? Be inspired by the piece above: it has a cozy, rustic feel, and its graceful text captures the prayer nicely. In addition, this canvas piece doesn't need fancy frames -- it already has an elegant border and is ready to hang.
With these easy ideas and affordable picks, you can help turn your house into a real family home. Which idea are you trying out?
For more decor ideas for the Christian home, see the well-loved items on ChristianStyle.com!