Easter Ideas For The Christian Family: Decor, Crafts, Games, and More!
Egg hunts, jelly beans, chocolate bunnies -- these are some of the staples that fill our Easter weekend every year. Easter now signifies several good things: the coming of spring, the end of cold hibernation, the promise of abundance.
This year, how about refocusing the tradition and centering it on Christ? His resurrection itself is the most profound reason to celebrate -- and celebrate we will! Here are fun, faith-inspired Easter decorations and activities that kids and adults will love.
1. Resurrection eggs
If your small children are giddy for the Easter egg hunt, extend the 'hunt' for 12 days! In the days leading up to Easter Sunday, you can engage them with what is called "Resurrection eggs": kids find one cute egg a day, and inside each egg is an object teaching them about Jesus and the Holy Week. See how to do it with this step-by-step guide.
2. Good company and a blessing
Whether you are hosting an Easter Sunday brunch, an afternoon party, or a nice dinner, there's always good company to be thankful for. Expressly include your friends and family in your mealtime grace, or better yet, show them your appreciation via a lovely wall sign like the one above.
3. Classy egg designs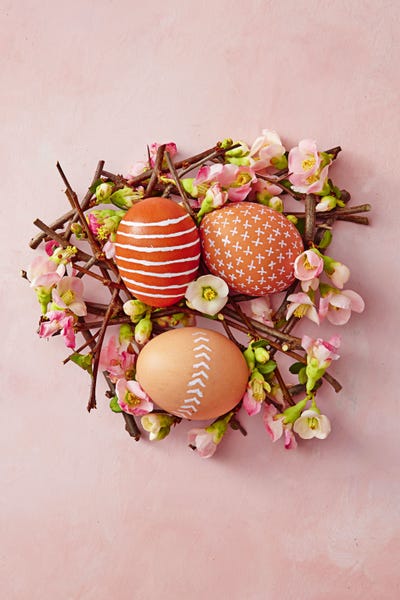 Here's an egg-decorating idea that even adults will find delightful: Instead of coloring white eggs, take some brown eggs and easily cover them with varying designs using a white paint pen. For a Christian theme, draw some timeless motifs of our faith, like crosses, palm leaves, and basic doves. Surround with pretty flowers, and voila, these eggs will look elegant as centerpieces, placeholders, and tabletop decor!
4. Spring blooms
Flowers are, of course, quintessential in the springtime, and they beautify your home in an instant. Take it one step further by arranging faith-inspired floral decor throughout your home. It can be a mantelpiece display, a Christ-themed wreath, or -- our favorite -- a bright and cheery Christian wall art (shown above). 
5. Egg-popper tree
Everyone can be a child again with this fun party game! Fill some large plastic eggs with small goodies (and Christian confetti, for good measure), wrap them in colorful paper, and hang them up on tree branches with pulling string attached. Let your guests pull on these cute party poppers, and watch your backyard burst with joy!
6. Powerful art
One of the ways to make an impact about Christ is to use powerful imagery in conveying His sacrifice and redemption. Thankfully, there are plenty of Christian art pieces that truly leave an impression in viewers. The five-piece cross artwork shown above is a unique example -- it will make a great statement decor that your Easter guests won't forget.
7. The carnation atonement experiment
This is a Lenten lesson and a science experiment in one! Prepare a bunch of white carnations and place them in a clear vase or glass with water. At the start of Easter Sunday, have your kids drop some food coloring into the water. Leave the flowers for a few hours, and come back to show the kids the amazing results: the color will have seeped up to the flower and 'stained' its whiteness, representing the stain of sin. Even teenagers will find this experiment pretty cool!
8. Humor for the soul
Just because we focus on Christ doesn't mean there's no room for humor! Since Easter is one big joyous party, it's the perfect time to show off some of your good-natured silliness. We love the wacky bathroom sign above that can make your guests giggle any time of year.
9. Biblical goodies
Looking for Easter party favors that embody the Christian faith? We found the perfect choice: this mini-Bible that looks like a small key charm but actually contains readable pages of the Scripture! Put these in Easter eggs or in goodie bags, for children, teenagers, and adults -- everyone will love them!
10. A special gift
Speaking of party giveaways, set aside a select item or two to give to your special guests -- perhaps as a prize for winning games or as a personal token of appreciation. The item doesn't have to be expensive to be meaningful. We recommend the car dashboard cross ornament above, so your loved ones can carry your prayers and well-wishes as takeaways from your Easter gathering.
Excited to plan for Easter yet? We certainly are, and we'd love to hear your tips, too! Leave us a comment below, or head on over to the Christian Style shop online for more Christian-themed ideas!
Leave a comment
Comments will be approved before showing up.