"A merry heart does good, like medicine," says the Bible itself (Proverbs 17:22, NKJV). Between the quiet prayers and the solemn church service, humor is really not amiss in Christian living. We can even use good-natured jokes to embody humility, honesty, and hospitality.
And that's exactly what we found in these funny, silly, amusing examples of Christians infusing wackiness in their lives. Check them out and prepare to giggle!
1. A bathroom reminder
They say cleanliness is next to godliness. It's only appropriate, then, to hang this funny wall art in your bathroom or lavatory. Jesus approves!
2. Cheeky angel
Religious statuettes are a classic in Christian homes, but sometimes, our little cherubs are immortalized in whimsical poses. Example: this adorably silly angel figurine waiting with flowers and a kiss!
3. Pun-tastic!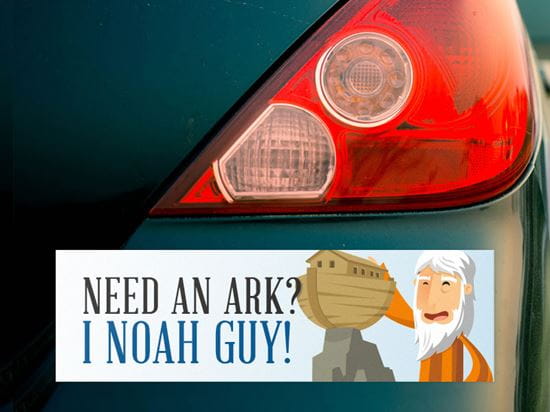 Puns may be groan-inducing but they're oddly really funny. Even more so when they have an unexpected Biblical punchline, like on this car bumper sticker.
4. Home run!
Of course, we dedicate our lives to following Christ, but in our free time, we take up our favorite sport! This baseball-themed shirt might just be our motto.
5. Just say no
Temptations are everywhere, but luckily, you can give yourself little reminders all around using these "Not today, Satan" stickers. Put them where you might need them most, like on your phone, journal, or yes, the fridge door.
6. Warning label
Some of us just need to sport a warning sign, especially when our faith is this strong! You probably already have someone in mind who could rock this wacky shirt.
7. Energy boost
Some days are just so overwhelming that even your coffee needs more coffee! Good thing Jesus is always there for those who are heavily laden. Take this inspiring and quirky tumbler with you for your regular power boost.
8. Christian memes
Christianity has finally arrived in the wild world of internet memes. But don't worry, these image-based jokes are safe for service and absolutely relatable!
What do you think of these instances of Christian silliness? If you have your own wacky Christian story to tell, do share with us in the comments! We could always use a laugh or two!